I have fond memories in middle school getting to use these laptop on mobile computer lab carts. These brightly colored laptops were such a change of pace from the blocky grey or black windows laptops.
Apple iBook G3 Clamshell M2453
I have the first edition of the colored iBook Model M2453, released on July 21, 1999. Maxed out the memory, added airport wifi card and converted to a SSD hard drive.
LCD : 12.1″ 800×600 active matrix TFT 72dpi
GPU : ATI Rage Mobility 4MB
CPU : 300Mhz PowerPC 750 (G3)
RAM : 256MB PC66 SODIMM + 64MB PC100 onboard
HD : 6GB (original) > 32GB KingSpec 2.5-inch PATA/IDE SSD with SM2236 Controller (upgraded)
CD : 24x tray
OS : Mac OS 9.2.2
Ports : 1 USB1, 56K Modem, 3.5mm Headphone, 10/100 Ethernet
Power Input : 24V 65W with a 9.5×3.5mm connector
Battery : M7426 14.8V, 4400mah, 8 Cell
Original Price : $1599 in 1999 would be $2,675 in 2021
Apple USB Keyboard (M2452) Tangerine – 3872P911
Apple USB Mouse (M4848) Tangerine – 3872P910
Apple 45W Power Adapter (M7332)
https://everymac.com/systems/apple/ibook/specs/ibook.html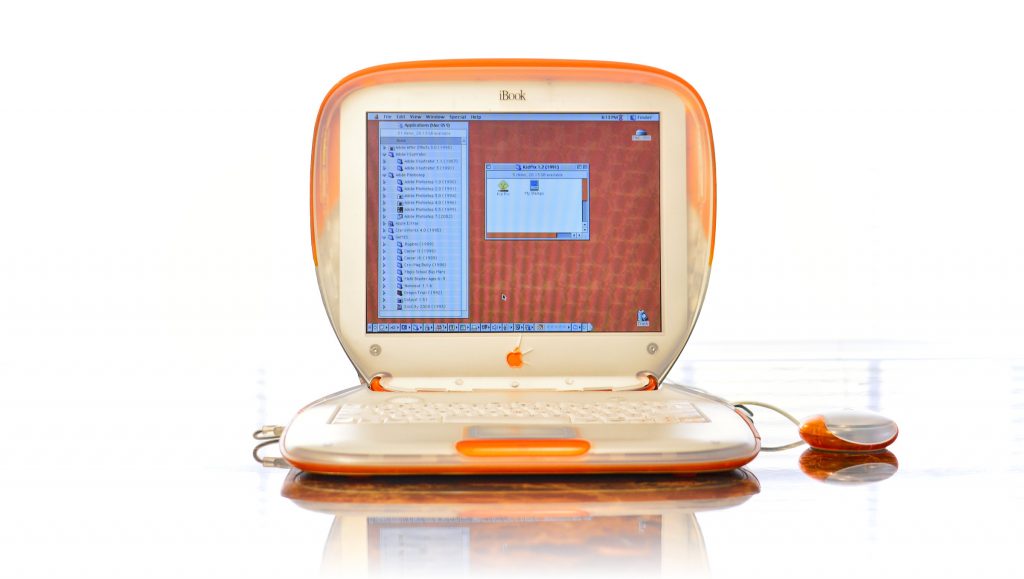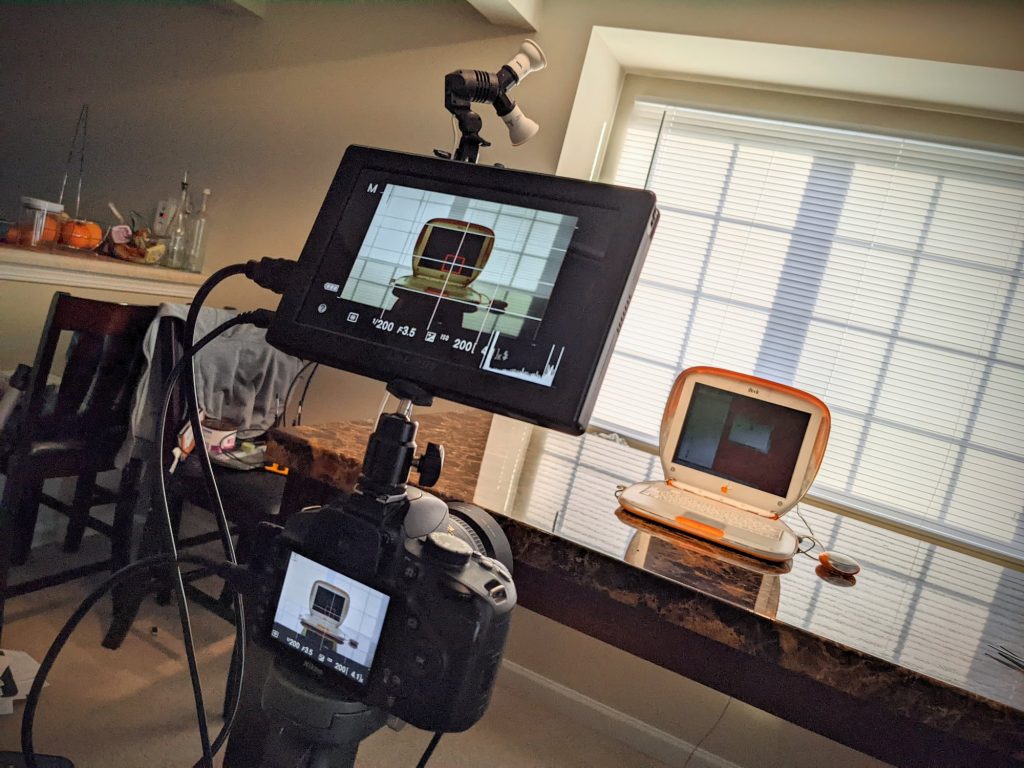 Apple iBook G3 A1005
Model A1005 was released in November 6, 2002 and the second generation of iBook series in a compact white square.
PowerBook 4.3
LCD : 12.1″ TFT XGA active matrix display, 1024×768 pixel resolution
GPU : ATI Mobility Radeon 7500 32MB
CPU : 800 MHz PowerPC 750fx (G3)
RAM : 128MB onboard + 128MB PC133 SODIMM (up to 512mb)
HD : 30GB
Optical : Sony 16X DVD/CD-RW CRX820E Combo Drive
WIFI : Airport Card
Power Input : 24V 65W with a 7.7×2.5mm connector
Power Adapter : 2.5mm 45w 24V 1.875A
Battery : A1008 10.8V Li-ion 2002 47Wh
uses 6x Sony 18650GR G5 cells
Ports : 2x USB 1.1, Firewire 400, 3.5mm Headphones, 56K Modem, 10/100 LAN
Original Price : $1299
Airport Card PC24-H (31926050) 802.11b Wifi
Apple Power Adapter (611-0356)

https://everymac.com/systems/apple/ibook/specs/ibook_800.html
Software OS9
Adobe Photoshop 1.0 (1990)
Adobe Photoshop 2.0.1
Adobe Photoshop 3.0
Adobe Photoshop 4
Adobe Photoshop 5
Adobe After Effects 3.0 (1995)
Adobe Illustrator 1.1 (1987) – very primitive
Adobe Illustrator 3 (1991)
Adobe Photoshop 1.0 (1990) – basic but can resize, levels, brightness/contrast, color balance and hue/saturation, blur, sharpen images in Photoshop, GIF, EPS, PICT, PIXAR, RAW, TGA, and TIFF (no jpeg, no layers)
Adobe Photoshop 2.0 (1991)
Adobe Photoshop 3.0 (1994) – first version with JPEG
Adobe Photoshop 4.0 (1996)
Adobe Photoshop 5.5 (1999)
Adobe Photoshop 6.0
ClarisWorks 4.0 (1995)
Internet Explorer 5 (1999)
KidPix 1.1 (1991)
KidPix 1.2 (1991)
Macromedia Studio MX
Microsoft Office 2001
Netscape Communicator
Toast Deluxe 4.1.2
Games OS9
Bugdom (1999)
Caesar II (1996)
Caesar III (1999)
Cro-Mag Rally (1998)
Magic School Bus – Mars
Math Blaster 6-9
Nanosaur 1.1.6
Oregon Trail (1992)
SimCity 2000 (1993)
Slam Dunk Typing
Tony Hawk Pro Skate 2 (2000)
Werewolf (1995)
Mac OS 10
Bugdom 2
Microsoft Office X
openanalytics 2186 views