I always find it interesting to see what people use to get things done day to day. It is so easy to find the first thing that works and never ask is there something better. This is an in-progress list of what I use:
Hardware
---
ASRock X570 Pro4 Motherboard
AMD Ryzen7 3800X 8-core (Matisse)

Geekbench 5 = 8023
Socket AM4

16GB DDR4-3600 Memory G.SKILL TridentZ RGB

30.9GB/sec
69.5ns latency
C18 Timing 18-22-22-42

Samsung Evo Plus 970 500GB NVMe M.2 SSD

Rated : 3,500 MB/sec
Actual : 1,670 MB/sec

ADATA SU800 1TB SATA3 SSD

Rated : 560 MB/sec
Actual : 398 MB/sec

Zotac Nvidia GeForce 2070 RTX

OpenGL – 86,048
CUDA – 359,131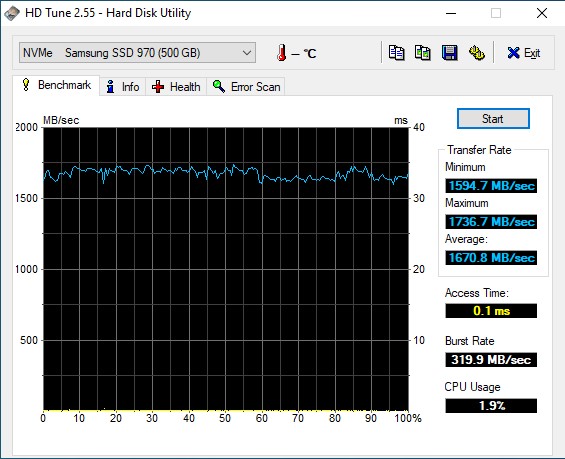 ---
HPE ML10 Gen9 Tower Server
Intel i3-6100 3.7 GHz x 2 core
48GB DDR4-2133 Unbuffered ECC RAM (14.0 GB/sec)
128GB SATA3 ADATA SSD (write ? MB/s – read 553 MB/s)
3x3TB ZFS array (write ? MB/s – read ? MB/s)

Fast Ethernet – write 11MB/s – read 11MB/s

Gigabit Ethernet – write 103MB/s – read 76MB/s

10G Ethernet – write ?MB/s – read ?MB/s
(I want to upgrade to the Xeon E3-1225v5 which should boost the benchmark to ~12k)
Microsoft Wireless Keyboard 2000 – $30
An affordable keyboard with volume and media keys not overriding Function keys, builtin palm rest and unnoticeable wireless connectivity.
---
Autonomous SmartDesk (sit/stand desk)
Rigol DS1054Z – 4 channel 50Mhz oscilloscope
Printrbot Simple 2014 – 3D Printer
USCutter MH721-MK2 – 28″ vinyl cutter
Nikon D3200 – DSLR camera (24MP)
GoPro 8 Black
LG105R – 360 degree camera (16MP)
—
ASUS VivoBook S400C – 14″ touchscreen laptop
– 1.7 GHz Dual Core Intel Core i5-3317U (passmark 3089)
– Intel HD Graphics 4000 (passmark 452) 1366×768
– 8GB DDR3-1600 RAM
– 500/24GB Hybrid SHDD
CODING
xCode (mac) –
Arduino IDE
JetBrains IDE
Sourcetree (each new release has been getting worse/buggier) (mac/win)
Unity
jadx (win/linux/mac)- DEX to Java Android Decompiler
Counterparts Lite (mac only) – if you do iOS localization, this tool is a must have.
Hex Fiend (mac only)
GRAPHICS
Pixelmator Pro – photoshop style editor (mac only)
Sketch – great replacement for Adobe Illustrator and even better at UX/UI design (mac only)
Figma– maybe a great replacement for sketch above. (web app)
Blender – open-source 3D modeling tool
OpenSCAD –
SketchUp –
SVG Explorer Extension – fixes windows 10 svg thumbnails
BIOTECHNOLOGY
Genome Compiler – free
SnapGene Viewer – free plasmid mapping, primer designer
UTILITIES
Etcher – writes img/iso/zip images to sd/flash drives
Blackmagic Disk Speed Test – tests read/write speed of disk drives
Magnet – divides your screen into grid zones, great for 4K screens
Cyberduck
Mac Fan Control
Fritzing – open-source circuit diagramming tool
Stockfolio –
Packet Peeper – easier to install alternative to wireshark for mac
Audio Software
Audio Hijack – can capture sound from individual app and do realtime DSP sound processing (mac only)
Vector 3 – sound editor (mac only)
Ocenaudio – Free alternative to Adobe Audition – great waveform with spectrum charting, easy to use EQ, compression, normalization
Lenovo M700 Tiny
These are great macmini-sized windows machines that are ultra low power but still pack serious punch
Intel Celeron G3900T – 2.60Ghz x 2 core

35W 14nm Socket 1151 LGA
Upgradable:

i3-6300T
i3-6400T
i5-6400T
i5-6500T
i5-6600T quad core ~$125
i7-6700T quad core ~ $220

20GB DDR4-2133 SODIMM RAM (16.7 GB/sec)
256GB ADATA SU800NS38 M2.SATA II (358 MB/s)
Intel HD 510 – dual DisplayPort 4K@60fps
Dell 3040 Touchscreen
Ultra thin touchscreen all in one that has been around for much longer than you would expect. A little under powered.
2.16Ghz Dual Intel Celeron N3530 (geekbench4 3,195)
8GB DDR3-1333 RAM (6.5 GB/sec)
256GB SATA3 ADATA SSD (write 86 MB/s – read 82 MB/s)