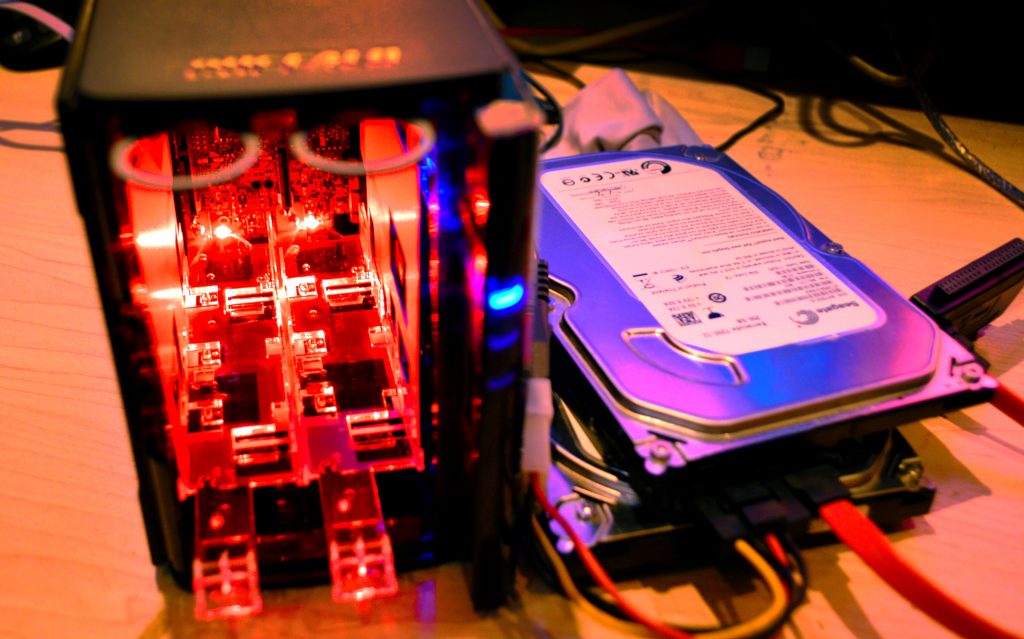 If there is one thing to learn from working in IT, it is that technology doesn't always work the way you plan.
I recently upgraded a single drive 2TB Iomega NAS (network attached storage) with a dual bay Buffalo Linkstation NAS because I was concerned about the safety of the data being stored on it. When I first started up my new NAS it automatically set itself up to not redundantly store the data. Which I find strange since the majority of people buying dual bay NAS are getting it for redundant storage and I installed two matching size drives. So I had to completely remove all of the drive setup and reinitialize it in RAID 1. For most people, that is where they stop. They load their data on it and feel good that they are protected from data loss.
I however loaded some useless data on it and tore out the second drive. I want to see how it handles a drive failure. I want to see that my data is really safe.
The Aftermath
How safe is my data? The short answer, not as safe as I thought.
Quickly a red light came on, the network mapped drives on my computer all turned into red x's. But what bothered me the most is the web interface stopped responding. With a dual drive system, while my data may still be safe, it is no longer accessible. Later in the recovery process I stumbled upon the reason for this, there is an option in the control panel of what the unit should do when a RAID failure occurs, and it defaults to shutdown.
After booting up the unit again, the network drives came back and my data was still all accessible. I then added another wave of files onto the unit because I wanted to see how the unit handles when the drive is reinserted.
With the hard drive removed, I wanted to see what data could be accessed from a unit other than the Buffalo NAS. In a worse case scenario, what will happen if the actual NAS hardware failed and Buffalo no longer makes this unit. So I connected the drive to a USB to SATA adapter on a windows 7 computer.
Not terribly surprising but Windows couldn't access the drive, and instead offered to format the drive. The more interesting part is how the Buffalo partitions the drive. It creates 6 partitions and something I noticed, the actual Buffalo OS is on the content drives. On a 250gb drive, the usable partition is only 218.7gb and it even leaves 7.5gb of just unallocated space.

So in a emergency, Windows is useless to recover the data.
Now onto linux. This time I had higher hopes, and I was let down again. Using 3 different live boot linux cds, I couldn't get them to boot up when they saw this strangely partition drive. With the drive disconnected, they booted up with no issue. Finally I used gparted live flash drive and got something to tell me what the partitions are. One of them was EXT3 which was the Buffalo NAS OS. Another was a linux swap partition and the rest are "linux-raid" partitions. Upon further reading into this, the Buffalo NAS is clearly using software RAID, which has poor linux support in the world of live cds. With a fully installed linux distro, you should be able to install mdadmin and have it scan the drive to start recovery.
Conclusions
For a single hard drive failure, the Buffalo Linkstation can handle it well for not losing any data. But its a far way from true data security. These consumer NAS give you a false sense that you are completely safe. If the physical NAS fails, you need to replace it with the same brand/model or risk possibly losing your data. Otherwise you can't pull out the drive and just take it to a computer to recover the data. After reblanking the hard drive that I pulled out, I reinserted it to the NAS. At first it didn't want to recognize it, but after a restart, it accepted it. The recovery process was slow but the RAID array is back online and ready for the next failure. The new files I added to only the first drive in raid failure mode copied over to the new drive without any issue.
A Possible Addition
I wish consumer NAS had a usb port on the unit and could backup the entire NAS to a drive in a format that is easy to read (NTFS/EXT4) so you could make usable non-vendor specific offsite backups. While many have a usb port, it is only for connecting additional storage space.
openanalytics 1810 views