Node-RED
Get a Notification When Your WAN IP Changes
---
Home residential internet connections have dynamic public IP addresses that can change whenever the DHCP lease expires. But from my experience, I've had the same IP for months, so I was curious when they actually do change and if there is anything you can do anything to trigger a change (i.e. power cycling)?
I started coding up a PHP wan-ip-checker tool and started dreading the idea of creating the CRON job to manage it. And then I remembered the server I plan to put this on is a raspberry pi that is already running Node-Red to turn on and off a series of WIFI LED controllers in my apartment.
After a few minute I had this flow: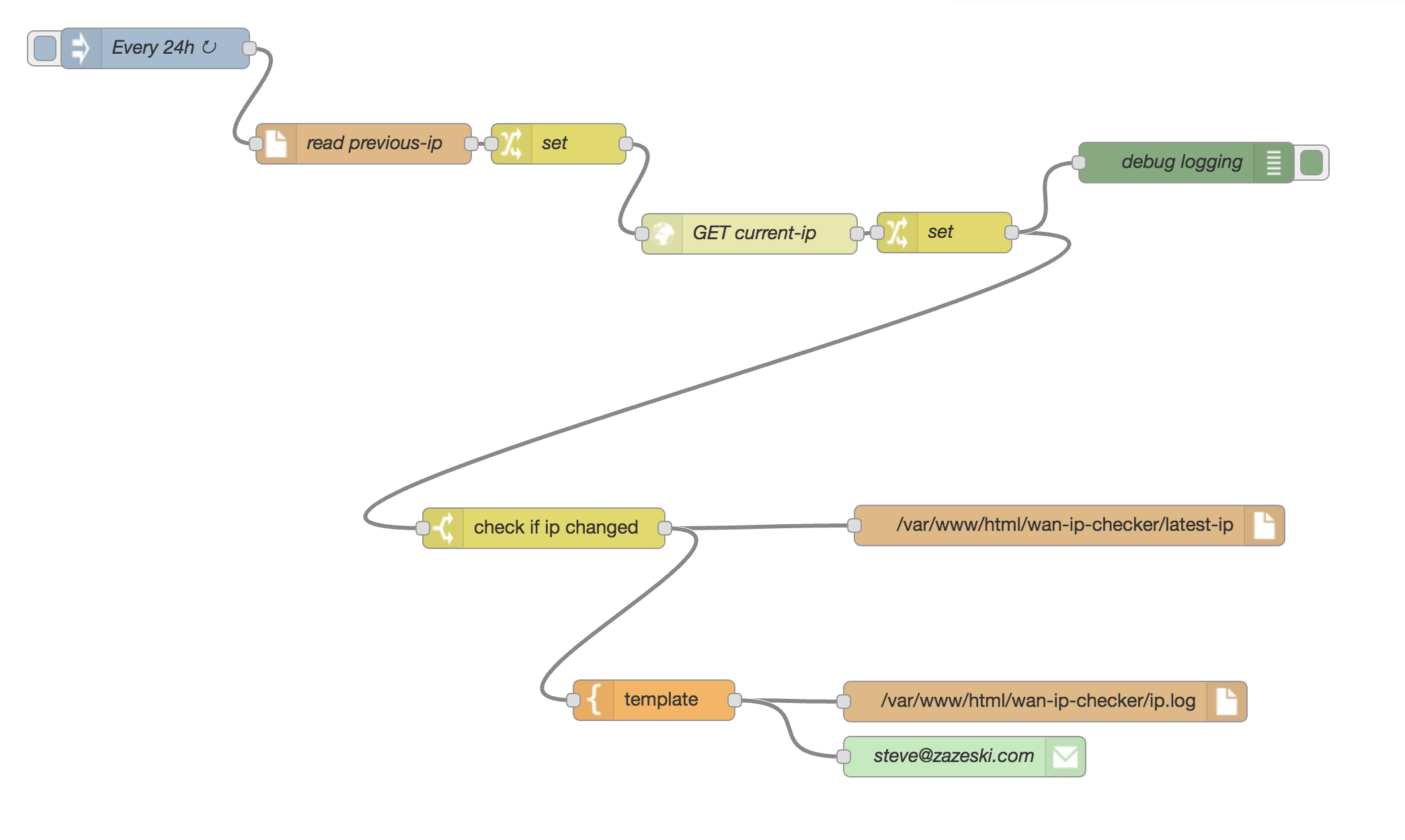 A 24 hour trigger starts the flow at 1AM every morning.
Reads in a plain text file that has just an ip address saved in it and stores it to msg.previous-ip
GET request from ipv4bot.whatismyipaddress.com and stores it to msg.current-ip
A switch node (check if ip changed) then compares msg.previous != msg.current-ip and if so, it then updates the text file with the new ip, adds a log row of the new ip with timestamp, and sends an email to me about the change.
In a while I will post how long my IP stays the same and if restarting your modem can/does change your WAN IP.
You can copy the code below and Import > Clipboard in Node-Red:
[{"id":"97c716c0.5e6798","type":"file","z":"985ead72.cdb57","name":"","filename":"/var/www/html/wan-ip-checker/latest-ip","appendNewline":false,"createDir":false,"overwriteFile":"true","x":810.5,"y":457,"wires":[]},{"id":"448d788f.69a2c8","type":"inject","z":"985ead72.cdb57","name":"Every 24h","topic":"","payload":"","payloadType":"date","repeat":"","crontab":"00 1 * * *","once":false,"x":130.5,"y":102,"wires":[["3ce3b5da.7fd7fa"]]},{"id":"3ce3b5da.7fd7fa","type":"file in","z":"985ead72.cdb57","name":"read previous-ip","filename":"/var/www/html/wan-ip-checker/latest-ip","format":"utf8","x":285.5,"y":173,"wires":[["52978d82.6248a4"]]},{"id":"433f5d83.5d64f4","type":"switch","z":"985ead72.cdb57","name":"check if ip changed","property":"current-ip","propertyType":"msg","rules":[{"t":"neq","v":"previous-ip","vt":"msg"}],"checkall":"true","outputs":1,"x":419.5,"y":459,"wires":[["97c716c0.5e6798","4e7ab8bd.db98e8"]]},{"id":"86a60c4b.00b86","type":"debug","z":"985ead72.cdb57","name":"debug logging","active":true,"console":"false","complete":"true","x":897.5,"y":187,"wires":[]},{"id":"4248c529.6a6a1c","type":"http request","z":"985ead72.cdb57","name":"GET current-ip","method":"GET","ret":"txt","url":"ipv4bot.whatismyipaddress.com","tls":"","x":572.5,"y":240,"wires":[["d7ef2df6.1ef7f"]]},{"id":"d7ef2df6.1ef7f","type":"change","z":"985ead72.cdb57","name":"set","rules":[{"t":"set","p":"current-ip","pt":"msg","to":"payload","tot":"msg"}],"action":"","property":"","from":"","to":"","reg":false,"x":717.5,"y":239,"wires":[["433f5d83.5d64f4","86a60c4b.00b86"]]},{"id":"52978d82.6248a4","type":"change","z":"985ead72.cdb57","name":"set","rules":[{"t":"move","p":"payload","pt":"msg","to":"previous-ip","tot":"msg"}],"action":"","property":"","from":"","to":"","reg":false,"x":430.5,"y":173,"wires":[["4248c529.6a6a1c"]]},{"id":"6399d3f8.7b6d1c","type":"e-mail","z":"985ead72.cdb57","server":"smtp.gmail.com","port":"465","name":"","dname":"","x":732.5,"y":629,"wires":[]},{"id":"d168fb2e.381928","type":"file","z":"985ead72.cdb57","name":"","filename":"/var/www/html/wan-ip-checker/ip.log","appendNewline":true,"createDir":false,"overwriteFile":"false","x":792.5,"y":588,"wires":[]},{"id":"4e7ab8bd.db98e8","type":"template","z":"985ead72.cdb57","name":"template","field":"payload","fieldType":"msg","format":"handlebars","syntax":"mustache","template":"{{payload}} first seen {{headers.date}}","x":501.5,"y":587,"wires":[["d168fb2e.381928","6399d3f8.7b6d1c"]]}]

openanalytics 2025 views